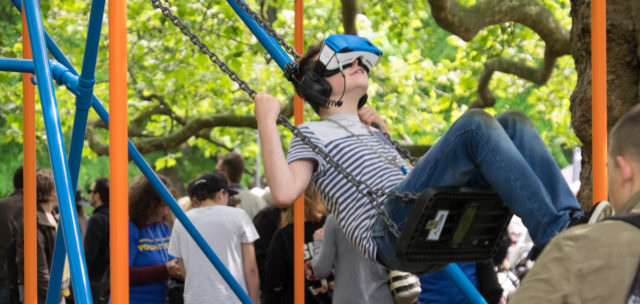 Can you remember swinging in the playground as a child: enjoying sensations of speed and weightlessness as you swooped high and low; laughing with friends, hoping they didn't spot that you were a little scared? Thrill Engineer, Brendan Walker certainly can, and he's harnessing those sensations to take you on some incredible, action-packed adventures. So, jump aboard a playground swing, don a VR headset, and start swinging.
But hold on tight… you'll be climbing aboard one of Brendan's incredible virtual machines, which he has created using his unique skills in aeronautical engineering, industrial design, and digital art. Propelled by your swinging, each machine will transport you in thrilling ways through new geometric virtual landscapes, complete with 3D musical compositions. Whether you choose to scoot through the metropolis inside a mono-wheel; leap tall structures in a single bound; or undulate upwards to escape the deep abyss – you'll be astounded.
And as you laugh and scream your way through your chosen virtual adventure, prepare for a real audience to gather and watch, curious to experience Brendan's secret machines for themselves.
VR Playground has been exhibited at many locations, including contemporary art galleries, shopping centres, national museums, public parks and squares. VR Playground can be presented as visual artwork, performance, a technological marvel, or simply as an amusement ride. If you have an audience that would enjoy taking a ride, then contact us and let's talk.
Whether you choose all eight of our 2.8m cube swing – which can entertain 100 riders per hour – or just one cube, our fully insured package of structures, VR technology, staff and training is designed for easy transportation, and operation at venues across the UK and Europe. We have also developed viable packages for international venues in East Asia, North America, and Australia. Further details, availability, and prices can be supplied on application. We're delighted to announce that one swing can be adapted for wheelchair users.
VR Playground was chosen by British Council, Korea to feature in Seoul as an official project of the 2018 PyeongChang Cultural Olympiad, where we hit our 10,000th rider. Early prototypes of VR Playground have appeared at Site Gallery, Sheffield Doc Fest; at the Victoria & Albert Museum, London; and featured on BBC Two Artsnight.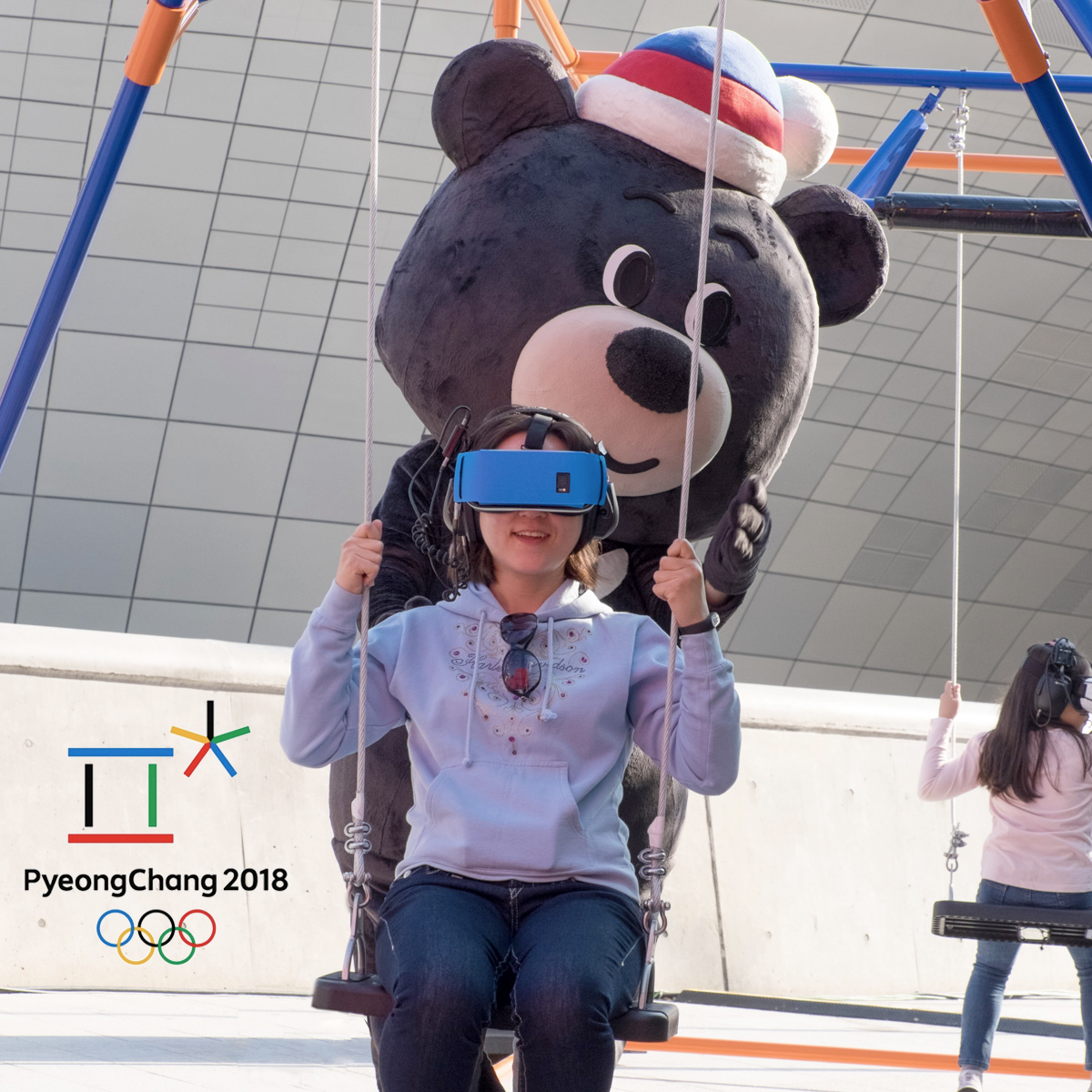 VR Playground is commissioned by Horizon Digital Economy Research, Norfolk & Norwich Festival, Greenwich + Docklands International Festival, and Without Walls. It is supported by Arts Council England and produced by Thrill Laboratory, Horizon Digital Economy Research, and Norfolk & Norwich Festival.