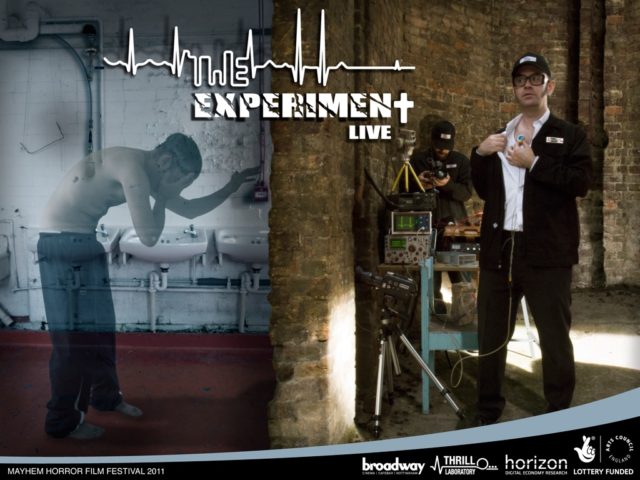 "For one night only, Thrill Laboratory present an experiment like no other: real scientists, amateur paranormal investigators, and the live exploration of a haunted building. University researchers have developed cutting-edge medical technology to monitor the effect of paranormal beliefs on the bodies and minds of those susceptible. Dr Brendan Dare brings to you the unpredictable results of their scientific research from the remote basement of a reputed Broad Street haunting. The Experiment will be captured by a film crew and transmitted real-time to a live cinema audience". You can watch an extract from The Experiment below:
Coverage of The Experiment also featured on BBC Radio News.
Interest was sparked when research scientists linked their 2011 laboratory investigation to local and national newspaper reports, which detailed events from the same central Nottingham location some 5 and 25 years earlier.
After media attention was unexpectedly raised the University group eventually agreed for their experiment to be covered by a local independent TV production company who worked with Thrill Laboratory to create a pilot for a reality horror TV show "The Experiment LIVE". You can view a selection of production photographs from the night and watch the full pilot below:
The Experiment was supported by Horizon Digital Economy Research Institute, Mayhem Horror Film Festival, Broadway Cinema and Arts Council England.